Notice
: Only variables should be assigned by reference in
/home/actunige/www/plugins/content/socbuttons/socbuttons.php
on line
168
Egypte : le Président Bazoum participera du 6 au 9 novembre 2022 à la COP 27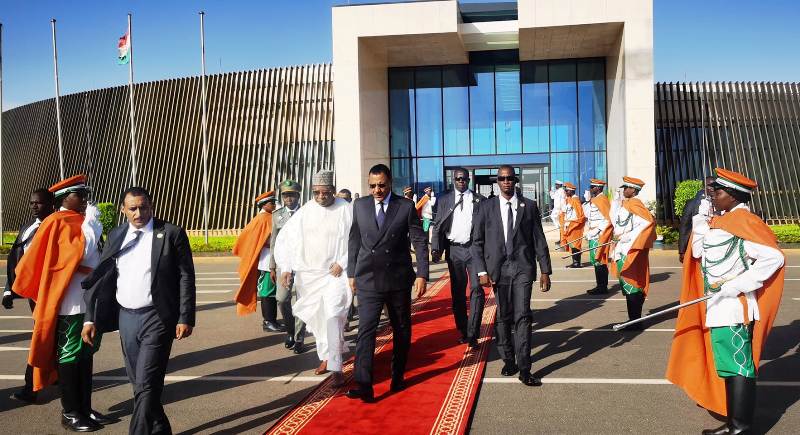 Le Président de la République, SEM. Mohamed Bazoum participera du 6 au 9 novembre 2022 à la 27e session de la Conférence des Parties de la convention-cadre des Nations unies sur les changements climatiques (communément appelée COP 27 – Conference Of the Parties) dans la station balnéaire de Charm el Cheikh en Egypte.
Cette rencontre qui se déroulera au Centre international de conférence (SHICC) El Salam Road sera le cadre des discussions pour la mise en œuvre des objectifs et engagements pris lors des précédentes COP concernant la réduction des émissions et l'abandon progressif des subventions aux énergies fossiles et au charbon.
Les participants se pencheront également sur les modalités d'octroi de financements supplémentaires pour les pays en développement confrontés à des pertes et dommages dus aux effets des changements climatiques. Elle se tiendra dans un contexte tendu de guerre entre la Russie et l'Ukraine et les difficultés économiques qui en découlent.
L'Afrique responsable seulement d'environ 3% des émissions mondiales de gaz à effet de serre liées à l'énergie et de 7% des émissions totales est pourtant l'une des régions du monde les plus touchées par l'impact des déséquilibres climatiques (sécheresses, inondations, incendies, dégradation des terres agricoles, érosion du littoral…). Les retombées négatives génèrent des pertes chiffrées à 7 à 15 milliards de dollars pouvant atteindre les 50 milliards de dollars d'ici 2030 si aucune action d'urgence n'est entreprise, sachant que les besoins de financement climatique du continent atteignent jusqu'à 1 600 milliards de dollars.
Le Président de la République Mohamed BAZOUM, conscient de cette urgence avait dans une déclaration très remarquée à la COP 26 de Glasgow de 2021 fustigé le fait que les pays faiblement émetteurs paient le prix de l'inconséquence et de l'indifférence des pays pollueurs. Il a en outre vigoureusement plaidé pour la mise en place d'un « Fonds Spécial » pour soutenir les pays du Sahel confrontés au changement climatique et au terrorisme.
En effet, la centralité de notre pays entre Sahel et Sahara a été mise en avant dans le discours du Chef de l'Etat pour exposer toutes les conséquences de l'augmentation de température due à la forte émission de carbone et par capillarité des conséquences de l'avancée inexorable du désert voire du risque d'instabilité liée au terrorisme par la déstructuration du système pastoral et agricole.
Le Président Mohamed BAZOUM est encore déterminé au cours de cette COP 27 pour continuer sa croisade pour l'instauration d'une justice écologique en faveur du Sahel et de l'Afrique.
C'est la cinquième fois que le Sommet de la COP se déroule sur le continent africain après Marrakech (COP 7 et COP 22 en 2001 et 2016), Nairobi (COP12 en 2006), Durban (COP17 en 2011) et Charm el Cheikh (COP27 en 2022).
Cette année marque le 30ème anniversaire de la convention-cadre des Nations unies sur les changements climatiques, adoptée pour la première fois en 1992 au Sommet de la Terre à Rio (Brésil).
Le Président de la République est accompagné dans ce déplacement de :
M. Hassoumi MASSAOUDOU, Ministre d'Etat, Ministre des Affaires Etrangères et de

la Coopération ;
M. Ibrahim YACOUBOU, Ministre d'Etat, Ministre de l'Energie et des Energies

Renouvelables ;
M. Mahamane Sani MAHAMADOU, Ministre du Pétrole ;

Mme GARAMA Saratou RABIOU INOUSSA, Ministre de l'Environnement et de la

Lutte contre la Désertification ;
M. Oumar MOUSSA IBRAHIM, Directeur de Cabinet Adjoint en second du

Président de la République ;
Mme SANI Nana Aicha ANDIA, Ambassadeur du Niger en Egypte.
.